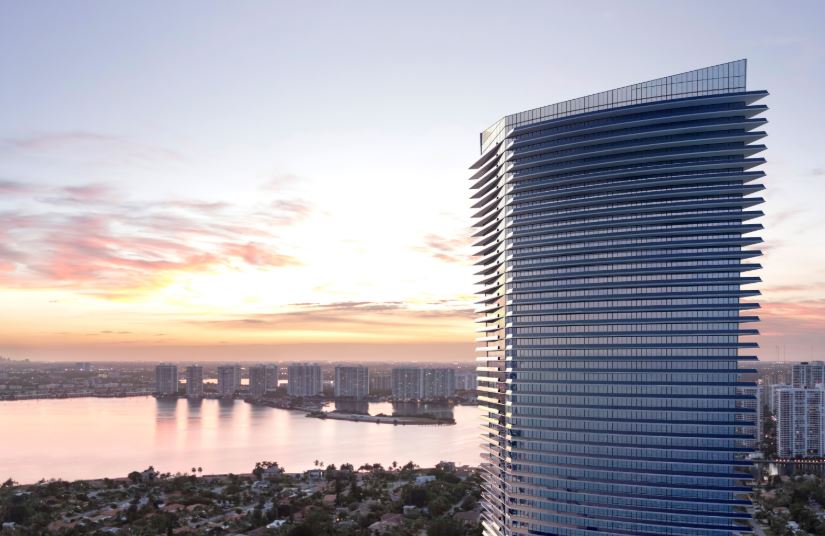 A Miami-area developer who once built luxury condominiums branded by Donald Trump now is working on another celebrity-driven project: an oceanfront glass tower named for Italian fashion designer Giorgio Armani.
The Residences by Armani/Casa in the seaside city of Sunny Isles Beach, Florida, is the designer's first U.S. residential real estate project, said Gil Dezer, president of Dezer Development. The 56-story condo, valued at nearly $1 billion, is due to be complete by November, with prices ranging from $3 million to $17 million.
If you buy the most expensive unit, a 7,000-square-foot penthouse, you'll even get a meet-and-greet with Armani himself.
Dezer, in partnership with The Related Group, said he has presold 260 of the 308 units for more than $800 million. Still, analysts worry about the effects of a recession and insist that Miami's luxury condo market is overbuilt, providing a sign of potential trouble for other parts of the country.
High-profile projects like The Residences by Armani/Casa boost the stakes in the debate whether investors should be concerned. Miami was the first major market to signal the start of the Great Recession more than a decade ago, so it's looked at as an economic bellwether as the U.S. economy enjoys a stretch of prosperity that would set a record in July for the longest ever.
Through a licensing agreement with the developers, Armani's Armani/Casa Interior Design Studio is designing the condo's common areas, according to Dezer. The studio also will design individual units for buyers at $250 a square foot.
The project at 18975 Collins Ave. features floor-to-ceiling windows, a 24-seat movie theater, heated swimming pool, spa and oceanfront fitness center. The architect is Pelli Clarke Pelli.
"We put together, really, a hell of a product," Dezer said in an interview.
The firm also used licensing agreements with Trump years before he became U.S. president for six condos in Sunny Isles Beach, an enclave just north of Miami.
In another Sunny Isles project, this one involving a licensing deal with Porsche Design Group of Germany, Dezer built the 132-unit Porsche Design Tower, where the units come with "sky garages" that allow owners to park their cars outside their front doors. The project was finished in 2017, and five developer-owned units remain, according to Dezer.
"It's about people knowing what to expect," he said of the licensing deals. "Having a brand tells buyers what a building is going to look and feel like."
Dezer Development, founded in 1970 in New York by Dezer's father Michael, has been a major player in oceanfront real estate across South Florida, particularly in Sunny Isles Beach. The city was incorporated in 1997 and later changed zoning laws to allow for high-rise construction.
The Residences by Armani/Casa is attracting a mix of buyers, both domestically and abroad, according to Dezer, adding that more than a third of the buyers so far have said they intend to live there full time.
But South Florida's condo market is on the decline, and Sunny Isles Beach in particular is flush with for-sale units priced at $1 million or more, according to Cranespotters.com, a database operated by Condo Vultures Realty, a consulting firm in Miami.
A market balanced equally between buyers and sellers has about six months' worth of inventory for sale, brokers say. In Sunny Isles, the supply of luxury condos is just more than 60 months, or 10 times the ideal level, meaning it would take five years to sell all the units if no more came on the market, the Cranespotters data shows.
The oversupply is leading to price declines and concessions from some developers, but Dezer's chances for success are good because buyers already have put down 50% of the purchase prices, said Peter Zalewski , a principal with Condo Vultures.
Those who don't have plans to keep their condos long term could suffer the most, according to Zalewski.
"We're set up for some real struggles ahead for individual buyers," he said.
Another analyst, Miami economist Ken Thomas, said he expects a recession before the end of 2020. What's more, consumers and business leaders are concerned about the uncertainty of the next election and wonder whether the Trump tax cuts would survive a change in power, Thomas explained.
"I see it from the point of view of the bankers and financiers," he said. "A lot of them are definitely expressing concerns. What we're seeing now are a lot of warning signs and flashing lights. These good times can't go on forever."
Dezer remains undaunted.
"The market has definitely slowed," he said. "But it has not stopped."
Dezer noted that the firm still owns five beachfront lots and two parcels on the Intracoastal Waterway in Sunny Isles Beach and plans to strategically roll out more condo developments in the years ahead.
"We don't want to be our own competitors," Dezer said. "But we have enough land to build for the next 25 years without buying another piece."
https://product.costar.com/home/news/669220362?keywords=from%20donald%20trump&market=37