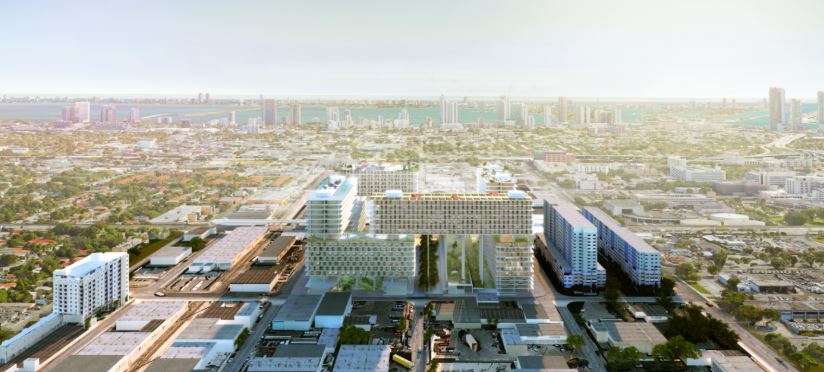 A signature development proposing co-living apartments, offices and retail for the rejuvenated Allapattah, Florida, neighborhood of Miami received unanimous support from the Miami City Commission on Thursday.
Developer Robert Wennett intends to build Miami Produce Center on 8.3 acres at 2140 NW 12th Ave. Designed by Danish architect Bjarke Ingels, the development would restore three existing warehouses and turn them into 1,200 apartments, a 227-room hotel, an art school, 120,000 square feet of retail and 238,000 square feet of office space. About half the apartments would allow for shared living.
Even with commissioners' approval, Wennett still needs to have the city review construction drawings and other documents before the project can break ground, David Snow, the city's chief of urban design, said in an interview this month. That process could take about six months, Snow said.
Allapattah, the Seminole word for Alligator, has drawn the attention of developers and investors who believe the neighborhood could be the site of the next building wave. In recent years, coffee shops, creative offices and a trapeze school have moved there. Still, one longtime Allapattah resident in support of Miami Produce Center told commissioners last month that the neighborhood lacks new, affordable housing and retail.
A handful of residents spoke in favor of the project Thursday, with one saying it would "inject a dose of adrenaline" into the area. A. Vicky Leiva, an attorney for Wennett, agreed that it would be a "spark to start a renaissance" in Allapattah.
"This will succeed," Commissioner Manolo Reyes said.
"I'm glad to see something so important come to your district," Commission Chairman Ken Russell told fellow commissioner Willy Gort.
Leiva assured the commission that the developer would give employment priority to people who live in the area. The vote was 4-0, with Commissioner Joe Carollo absent.
Wennett's project also proposes an urban farm and would incorporate landscaping and public spaces between the buildings. So-called roofscapes would offer views of downtown.
https://product.costar.com/home/news/1390752638?keywords=miami%20commissioners&market=37